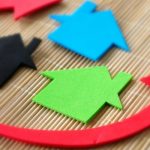 New data from Moneyfacts has highlighted that borrowers who opted for a cheap two-year fixed rate mortgage two years ago, are more likely to re-mortgage from their Standard Variable Rate (SVR) to a new deal than those whose fixed deals ended in October 2014.
Charlotte Nelson, Finance Expert at Moneyfacts, said: "Two years ago, the mortgage market experienced an aggressive drop in rates, which saw the average fall from 3.41% in October 2014 to 3.06% in March 2015. Borrowers who took advantage of lenders fighting to be the lowest in the market at the time could now find a difference of 1.50% between their previous fixed rate and the current average SVR (4.56%).
Despite the base rate standing at a record low, borrowers will be shocked to find that their monthly repayments could increase by £163.81 a month or £1,965.72 a year on average if they settle for the SVR. This could provide a strong motivation to re-mortgage, with the re-mortgage market having already seen substantial activity in recent months as customers have continued to take advantage of the record low rates. Especially as the average two-year fixed rate stands at 2.33% today, sitting on a lender's SVR should be avoided if possible.
This increased motivation to switch deals will also mean providers will need to yet again compete heavily or face losing a substantial proportion of their mortgage book. However, it may be difficult for lenders to find room to lower rates even further, causing them to look at other parts of the mortgage package to try and attract customers.
Faced with such a big jump in monthly repayments, it clearly pays for borrowers to shop around and re-mortgage. However, re-mortgage customers must consider all aspects of the mortgage to ensure they are getting the best deal for them."
Rob's comments, it is always good practice to ensure that you review your mortgage at the end of every deal. You need to ensure that your payments are protected from future interest rate raises and you also need to consider that low rates will not be here forever and at some point, you may want to complete a 5 or even 10 year fixed rate if you intended to stay in your property long term.