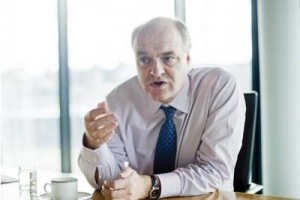 FUND manager James Anderson, who runs the £3.7 billion Scottish Mortgage Investment Trust, has warned there continues to be "unjustified greed" in a banking sector that has shown little appetite for change.
Mr Anderson also states his belief that traditional banks are starting to become less central to the economic system as alternative models of financing emerge.
In the Scottish Mortgage annual report he said: "There is still precious little evidence that the financial system has meaningfully reformed itself. Indeed the saga of corrupted incentives and unjustified greed continues apace."
However he goes on to suggest that the central position of banks in the economy may be shifting as new models start to disrupt traditional practices.
Mr Anderson, who works for Baillie Gifford and is the joint manager of Scottish Mortgage with Tom Slater, said: "This is partly the result of regulatory pressures that may have been too limited but have demanded sufficient new equity to make previous methods unprofitable even in normal times.
"But it is also that the banks are rapidly being undercut by new methods. Finance itself is being attacked by innovation of a rather more profound and promising nature than it has itself supplied.
"An example of this is Lending Club which is the world's largest online marketplace for consumer credit. We participated in the IPO in late 2014. We believe that it can provide a better system with lower credit spreads than traditional models."
Mr Anderson goes on to state he believes this is a growing global trend citing the likes of Chinese e-commerce giant Alibaba and the country's major internet portal Tencent as make progress in their own financial services efforts.
His faith in the way advancements in technology can disrupt traditional markets leads Mr Anderson to conclude it may not just be the position of banks which may be under threat in the coming years.
He said: "It seems to us that several industries, such as healthcare, oil majors and utilities, which have been havens of stability may face dramatic change.
"Global brands may follow national grocers into a margin storm. At the same time all too many traditional quoted companies have failed to reinvest in their businesses in order to produce earnings to the satisfaction of the financial industry.
"As aggressive unquoted enterprises and founder run competitors with less pressure to generate immediate earnings become ever more prominent, the complacent incumbents will be under serious pressure.
"Equally we believe that the long-term ambitions and visions, network strengths, low capital requirements, technological strength and sheer intelligence of the aggressors may mean that their longevity is more akin to that of General Electric than that of Socks.com."
Scottish Mortgage has been a big investor in Chinese companies with stakes in Alibaba, Tencent and Baidu worth hundreds of millions of pounds.
However Mr Anderson suggests the economic progress in the country is becoming increasingly disconnected from its political regime.
He said: "The success of Tencent, Alibaba and Baidu has only been equalled by the global giants of the West Coast of the USA. This is a remarkable achievement. Our concern at this point is that these forces of modernity and voices of vibrant communication are increasingly discordant with the conservative and repressive tenor of the government."
Scottish Mortgage, the UK's largest conventional investment trust both by market capitalisation and total assets, recently sent investment manager Peter Singlehurst on a fact finding trip to Delhi, Mumbai and Bangalore in India.
Mr Anderson said the findings of his colleague were not quite enough for him to shed his scepticism over the investment opportunities in India. However the Trust has taken a stake in unquoted e-commerce firm Flipkart.
Among Scottish Mortgage's other holdings are Amazon, Facebook, Fiat, Google, Apple and electric car company Tesla.
Source:http://www.heraldscotland.com/business/13214967.Scottish_Mortgage_manager_warns_greed_culture_in_banks_has_yet_to_change/