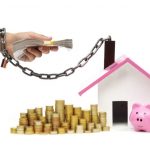 The amount of mortgage debt held by over 65s is set to increase by more than £19 billion by 2030, from £20.1 billion to £39.9 billion, according to a new study by ILC-UK and the Building Societies Association.
The report shows that current economic trends such as house price inflation, tighter credit conditions and low real wage growth will cause a significant shift in the customer base of the mortgage market over the next 13 years.
Since the financial crisis, home ownership amongst 20-29 year olds has fallen from 53% to 38%, and from 73% to 65% for those between 30-39 years old.
Today, many first-time buyers are delayed from stepping onto the property ladder by factors including low supply of new homes and higher house prices, greater student debt, persistent low real income growth and challenges in saving for a deposit.
As people get onto the property ladder later in life, ILC-UK research has shown that over 6%, or 1.42 million people aged 35 to 64 will not have paid off their mortgage before retirement given the current term of their loan.
By 2030, the ILC-UK projects that £3.3 trillion or 58% of all housing wealth in the UK will be owned by the over 65s.
Paul Broadhead, Head of Mortgage Policy at the BSA, commented: "The first question for national policy-makers, including government, is whether action should be taken to try and maintain the 'traditional' market. In my view the socio-economic changes lenders and consumers are already experiencing are unstoppable. So instead the focus must be on adapting to a changing market. Top priority must be given to radically increasing housing supply across all tenures, including recognising shared ownership as a tenure in its own right.
"We must also respond as an industry to reflect the changing needs of customers. This will include an increasingly intergenerational approach to home ownership, as parents and grandparents borrow to release some of their housing wealth to support the younger generation. It is the combination of multiple factors that will drive greater levels of mortgage borrowing in later life."
Ben Franklin from the International Longevity Centre-UK, added: "The housing market must better adapt to our ageing society, building more homes for all ages across a range of tenures. Over the course of a lifetime, including in retirement, consumers will need to have access to the right mortgage products and advice to maximise their long run financial wellbeing. Building societies have made a good start in this regard, but, this is a whole of market challenge that will ultimately need whole of market solutions."
Rob's comments. Lending criteria does need to change for those over 50. Some of us are still paying for mistake in the past from the Credit Crunch and are stuck with interest only mortgages that need to be re-financed.
In Scotland, there is NOT a housing shortage in my option BUT everyone cannot live in a 4-bed detached in a private scheme. Plenty of house to buy but attitudes need to change with the young and I believe that only an increase in the interest rate, higher monthly payments and a character change of the Millennia generation will force the young to prioritize to a smaller house more suitable to their needs and not their egos.