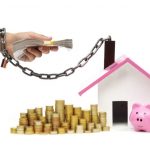 Mortgage borrowers are well-placed to weather base rate rises over the next couple of years, according to the UK Finance mortgage board.
The board, formerly the Council of Mortgage Lenders, says the UK could see a rate rise within 12 months.
UK Finance says most borrowers are likely to "withstand rate increases higher than anything that is likely over the next couple of years".
The UK Finance mortgage board says many borrowers on fixed rate mortgages would clearly be immune from rate rises, at least for up to two years.
The trade body adds that mortgage rates remain low, and that lender stress testing should ensure a base rate rise does not harm affordability.
But the mortgage board says consumers may also have other loans, which would also be affected by rate rises.
A UK Finance statement says: "For those with high savings, the benefits may outweigh the additional mortgage costs. But for those with significant other borrowings, the reverse will be true."
The trade body also notes there is a risk that complacent consumers have not factored a base rate rise into their financial planning.
UK Finance notes that 2.4 million consumers took out a mortgage in the past ten years and so have never experienced a Bank of England rate rise.
The trade body adds: "We do not have a crystal ball. But it is certain that rates will eventually rise and, if market expectations are right, sooner rather than later. When this happens, it is vital that borrowers are alive to the impact this will have on their own household finances.
"Lending practice and regulation go a long way to helping ensure borrowers have a buffer to absorb increases. But ultimately borrowers still need to look at their own finances to ensure they are resilient as the era of rock-bottom rates unwinds."
Rob's comments. I am wondering. Why? Because I have heard this so many times before and yet the rates don't go up. I am not stupid as I know rates will have to increase but it is the when that has me thinking.