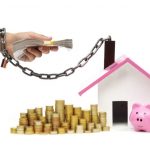 Bank of Scotland has been ordered to pay a customer back thousands of pounds who was forced to stay on a standard variable rate after being told he could not afford to switch to a cheaper rate.
The customer, who wishes to remain nameless, paid out as much as £12,550 over an 18-month period when the lender, which is part of Lloyds Banking Group, refused to allow a product transfer, the Telegraph reported.
In May 2015, the borrower was turned down by the lender after he tried to switch his existing interest-only mortgage to a lower-fixed rate, without borrowing any additional money.
The bank refused to grant the customer a lower rate on an interest-only deal citing affordability concerns, telling the borrower he must instead switch to a repayment mortgage.
However, the standard variable rate of 3.99% that the customer was on, meant he was paying £1,300 a month in repayments, double the £650 he would pay under a fixed-rate mortgage with a lower rate.
Bank of Scotland has been accused of "punishing" the customer in an adjudicator's assessment because he did not want to move from an interest-only onto a repayment deal.
Transitional rules brought about by the Mortgage Market Review stipulate that lenders can offer existing or new customers mortgages without forcing them to pass tough affordability assessments, so long as the borrower did not increase the amount of the mortgage balance.
However, under the Mortgage Credit Directive which was implemented in March last year, borrowers were deemed no longer able to switch lenders using the transitional rules, restricting product access further.
A spokesperson for the Bank of Scotland said: "We have been in regular contact with the customer in order to resolve his complaint and we have arranged to amend his mortgage product and provide compensation in line with FOS outcome, however a final review is still being carried out by the Ombudsman.
"We will then be able to arrange to backdate the customer's product transfer, and we have accepted that he will sell the property at the end of the term and use the proceeds to repay the interest-only debt."
The adjudicator involved in the case found that the Bank of Scotland was wrong to stop its customer re-mortgaging to a cheaper rate.
The Bank has been told it should offer the customer a new, improved rate and backdate and refund payments to May 2016, when the borrower first tried to switch his deal, with 8% interest added. It has also suggested that £350 in compensation should be paid.
Bank of Scotland has appealed and the case is due to be seen by the Ombudsman within the next month.
Rob's comment: This is great news. The banks need to know that they can't take FCA rules and make them more complicated or overzealous because it suites them