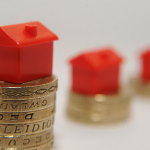 I have finished an article on how over 55 are now doing equity release mortgages in large number.
Higher than ever before.
Read Here http://www.telegraph.co.uk/personal-banking/mortgages/babyboomers-release-cash-homes-record-numbers/
This is understandable because since 2009 there is very little incentive to save and people have gotten use to spending. The only cash available is the equity in their homes.
This will work for our over 55's generation but what about the next?
I fear that future generation may not have the same opportunity because younger folks are using there equity now and by the time they hit their mid 50's they may not be any usable equity in their home.
What will they do?