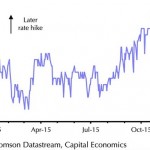 Mortgage approvals fell for the first time in six months in February and consumers became more reliant on their credit cards to keep spending, according to the Bank of England.
Approvals dipped 1.2% to 68,315 last month from 69,114 in January, the latest snapshot of lending from the central bank showed. This was lower than expected and the first fall since August, supporting other reports of a slowdown in the mortgage market.
Howard Archer, the chief UK economist at IHS Markit, said it could be a sign that consumer fears over the economic outlook were weighing on their willingness to push ahead with house purchases: "The February slowdown in mortgage approvals reported by the Bank of England fuels our suspicion that housing market activity and prices will come under increasing pressure over the coming months from weakening fundamentals," he said,
"While in theory weaker mortgage demand could lead to house price growth easing, the slowdown is expected to be limited by a shortage of homes coming on to the market. Archer is forecasting a rise of 3% or less, following a 4.5% increase in house prices in 2016, according to the mortgage lender Nationwide."
Consumer credit rose by £1.4bn in February, at a slower rate than January's £1.6bn rise, but the annual growth rate was unchanged at 10.5%.
People did not appear to be deterred by rising inflation and the threat of falling real pay, as the annual growth in credit card lending rose to an 11-year high of 9.3% last month.
The Scotiabank economist Alan Clarke said people were willing to dip into their savings and borrow more on credit cards to maintain spending levels.
"The figures fit with the idea that people will borrow to maintain their spending," Clarke said. "People have to rely more now on credit cards because it's so easy to get hold of that debt and more difficult to withdraw equity from mortgages."
Earlier this week, the Bank said rapid growth in consumer credit – underpinned by debt and particularly credit cards – was one of the main threats to the UK banking system.
"Concerns have been raised about the recent rapid growth in consumer credit and February's numbers are unlikely to do much to allay them," said Martin Beck, senior economic adviser to the EY Item Club forecasting group.
"However, with real incomes under pressure from rising inflation, that households remain able and willing to borrow for spending may prove to be a blessing in disguise as far as the all-important consumer sector is concerned."
Rob's comments. I see every day that the public are willing to spend more than they earn. How long can that last? How long before sensibility kicks in and the public say "NO" to debit. What will be the government plan then? What happened to the old fashion financial game plan of "saving money until I can afford to buy it?" Don't get me wrong, something's need to be financed, like a house purchase and cars because of their price but do we really need to finance a holiday or material items? Think about it.