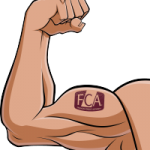 The FCA will consider links between estate agents and mortgage brokers as part of a review of the mortgage market.
Some agents earn money from referring customers to brokers.
In a report updating a review of the mortgage market which was first announced in May, the regulator said that it would consider relationships between brokers, lenders and estate agents.
It said it was concerned that these relationships were creating conflicts of interest as consumers were spending more than necessary if pressured to use particular firms.
Some estate agents imply that using a particular broker might be "necessary to view or secure a property," the report said.
It also said that fees paid to brokers by lenders when mortgages are completed might tempt brokers to recommend these mortgages, even when they are not necessarily the best available for the buyer.
This is not illegal, but Mark Hayward, of the National Association of Estate Agents, said that they did not support it.
"It's not fair that buyers should be penalised if they don't use an agent's in-house broker and consumers should not be made to feel that without using the recommended financial services provider they will lose out on the home they want to buy," he said.
The regulator also said that it would examine whether the Mortgage Market Review, which was implemented in 2014, was unfairly excluding some people from buying.
The new rules were implemented to prevent mortgage lenders from offering loans to those who could not afford them, and wiped out the riskier mortgages that were being sold before the financial crisis, such as offering a borrower more than the value of their home.7
But there have been concerns among some experts that the strict affordability rules have stopped companies from lending to people who could afford to borrow, such as older people.
Many lenders have restricted their loans to borrowers over the age of 65, leaving even those with excellent credit ratings and gold-plated pensions unable to buy a home or extend their existing mortgages.
More customers have used brokers to secure mortgages since the new rules were introduced. The proportion looking for an adviser to organise their mortgage has risen from 67pc in 2008 to 97pc in the second quarter of this year.
This is because stricter rules mean in all but the most straightforward cases borrowers need help finding a suitable mortgage.
The use of best-buy tables will also be examined, as the FCA assesses whether they are being distorted by lenders who deliberately launch deals with low rates and high fees to ensure they are at the top.
In June HSBC (now removed) launched a sub-1pc mortgage, at 0.99pc, but with a high fee of £1,499.
Rob's comments. Mortgage Information welcomes this move by the FCA. This practice has been rumoured for years. Don't get ripped off. Only use a independent broker who is not affiliated to any estate agent.