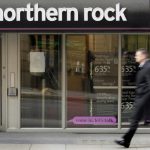 The various government bail-outs during the financial crisis have had a mixed track record in the near-decade since.
Lloyds Banking Group has been returned to the private sector, with the taxpayer having made a modest profit on the bank's rescue; Northern Rock's branches were sold to Virgin Money, under whose brand they trade successfully today, while the taxpayer still retains a 72% shareholding in Royal Bank of Scotland that, at some point in coming months, may be sold down.
Yet there is another collection of assets that also came the way of the taxpayer during the various rescues that, now, are probably the least-remembered.
These are the mortgage assets of the old Northern Rock and Bradford & Bingley, now held by a state-owned business called UK Asset Resolution (UKAR), Britain's so-called 'bad bank'.
Created back in October 2010, its assets were B&B's mortgage book (B&B's branches and savings business had been sold to Santander in 2008), along with mortgages and personal loans from the Rock. It had some 850,000 customers in all and was propped up with loans totaling just over £49bn from the taxpayer.
Today, the business provided an update of its progress, which made for reasonably encouraging reading.
UKAR repaid a further £3.3bn to taxpayers during the last year, bringing the total sum repaid to the Treasury since 2010 to £23.7bn, getting on for half the money pumped in by taxpayers.
Image: UKAR holds the mortgage assets of the old Northern Rock
The size of UKAR's balance sheet, which stood at £116bn in 2010, has been shrunk by almost three-quarters to £34.3bn.
Customers have made loan repayments worth £39.7bn and, in addition, some £27.2bn worth of loans have been sold, including the sale earlier this year of a portfolio of buy-to-let loans to Prudential and the US private equity giant Blackstone. The total number of mortgage accounts is now down to 158,000.
This is no mean feat during a period in which house prices were falling for several years in many parts of the UK and when the often-reckless lending standards at both B&B and the Rock, prior to the financial crisis, are taken into account.
At the time UKAR was created, more than 25,000 of the Rock's customers and more than 14,000 of B&B's customers were in arrears with their mortgage repayments. Those figures are now down to just over 4,600 in total.
In the meantime, UKAR will continue to sell down its assets. Sky News reported last week that it is aiming to sell a portfolio of some £6bn worth of old B&B mortgages, many of which are buy-to-let loans.
This will help the 'bad bank' reach its target of repaying the Financial Services Compensation Scheme loan in full by March 2018.
So far, so good. The big question is what will happen if interest rates start to rise.
This week marks the 10th anniversary of the last time the Bank of England raised interest rates but a growing number of investors are convinced, following recent comments from members of the Monetary Policy Committee, that a rate rise is on the cards later this year.
UKAR warned today that getting on for one in 10 of its customers could struggle with their mortgage repayments were they to rise by just one percentage point.
And that will concern Philip Hammond, the Chancellor, who last October said selling the old B&B assets was one of his top priorities. Any deterioration in the quality of the loans being sold could make selling them that little bit harder.
Rob's Comments. The Bank of England wants affordability of mortgages to be based on 7% interest rates because people are using too much car, personnel, and credit card debit but this report say that a 1% increase in the base rate could cause a high repo rate. All these reports going around about the lack of cash for people to spend countered by the governments saying people are spending cash. What is it?????