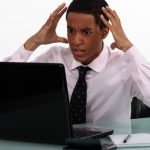 Planning to buy a home, or switch your existing mortgage? Prepare to answer a litany of questions, spend hours at the bank and endure forensic analysis of your daily spending habits.
Even after jumping through all those hoops, success is not guaranteed, as there are now strict affordability rules that force lenders to ensure borrowers will be able to afford to pay their mortgage in the future.
The main bulk of the current rules surrounding lending came into force in 2014 through the Mortgage Market Review, which introduced a number of stringent new requirements. This happened because the City watchdog was concerned that lenders had made it too easy to get a mortgage in the run up to the global financial crisis.
Many households borrowed too much and found themselves unable to pay their mortgage when the crisis struck. So-called "self-cert" loans, where borrowers declared their income but did not have to prove it, were common, and people routinely exaggerated earnings to borrow more.
Mortgage providers are now responsible for assessing whether customers can afford the loan in the long term, not only for buyers but also for anyone re-mortgaging who wants to increase the size of the loan, vary the time frame or transfer it to a new property.
A number of borrowers have become trapped on expensive mortgages, as they can't pass the newer affordability checks to switch to a cheaper deal.
Last year, additional rules were added that forced some lenders to apply an interest rate stress test – a test of a borrower's ability to weather increases in the mortgage rate – at 3 percentage points above the standard variable rate (the rate that applies when a fixed-term deal ends) or the rate of a tracker mortgage.
David Hollingworth, of mortgage broker London and Country, explained that Barclays is currently quoting 7.24pc as the affordability rate it tests at.
That means potential borrowers must have a decent cushion in their disposable income and should be prepared to answer the questions that will help prove that they do.
The clear majority of borrowers must take formal advice, either from the lender, a mortgage broker, or financial adviser. The mortgage adviser, who must have specialist qualifications, will assess whether they can afford a loan, and help decide which mortgage is best.
Some borrowers who already know exactly which mortgage they want may be able to apply directly without taking advice but must be able to provide full details of the deal without any input from an adviser.
An interview with a lender could take hours, and applicants will need to supply detailed proof of earnings and bank statements going back up to six months.
Self-employed or contract workers face a tougher time and may be asked for earnings track records going back years, plus evidence that they will have work in the future.
Affordability questionnaires often now go far beyond covering essential living expenses. Whether a borrower gambles, has taken out a high interest payday loan, and any major life changes in the future could all be covered.
Mr Hollingworth said: "These are some of the things that may have an impact but are not necessarily going to be asked as a specific question.
"There may be a broader question about whether there is anything that could have an impact on future income or expenditure, which would cover things like a baby on the way or a change of employment."
Unlike the past, lenders can no longer make as many loans as they want at huge multiples of borrowers' incomes. They can only make up to 15pc of their lending at an income multiple greater than 4.5 times, which can make buying in expensive regions particularly difficult.
The 26 questions you could be asked by a lender
• Do you have children?
• Are you planning to start a family or have more children?
• Do you have any plans to leave your job, start a business or become self-employed?
• Do you expect your income to fall over the next few years?
• Have you ever taken out a payday loan?
• Do you ever gamble?
How much do you spend on?
• Eating out
• Socialising
• Hotels
• Alcohol
• Cigarettes
• TV and internet subscriptions
• Mobile phone
• Gym memberships
• Essential and non-essential travel
• Parking
• Clothing and footwear
• Haircuts
• Personal grooming
• Cleaning products
• Dry cleaning
• Pets
• Dental care
• Eye care
• Childcare
• Groceries
High-net-worth waiver
Anyone fortunate enough to be classed as a high-net-worth borrower may be able to benefit from a different set of rules, depending on the lender. However, to do so you must have more than £300,000 net annual income and assets of more than £3m.
The "high-net-worth waiver" allows the borrower's assets to be taken into consideration as well as income, and a loan to be taken out without formal advice.