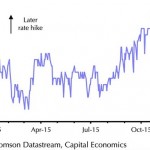 Mortgage lending increased by £0.3 billion in April – a sharp drop from the £7.4 billion increase seen in March and the lowest figure seen since August 2012.
The latest Bank of England Money and Credit report shows that gross lending secured on dwellings fell from £27.4 billion in March to £19.2 billion.
Total lending to individuals increased by £1.6 billion in April, compared to £9.3 billion in March and a six-month average of £5.7 billion. This is the lowest figure seen since May 2013.
However, mortgage approvals remained more stable – reaching 66,250 in April, a slight drop from 71,357 last months and a 71,075 average.
The number of approvals for re-mortgaging was 40,510, broadly in line with the average over the previous six months.
Richard Pike, Phoebus Software sales and marketing director, commented: "Echoing the CML's predicted gross lending for April the Bank of England has this morning confirmed that lending in April was, predictably, less than the average over the past six months. As this was no surprise, especially given the extra lending on buy-to-let in March, our focus must now turn to the future of the market.
"We are but a couple of weeks away from the EU referendum, which is more than likely to have an effect on the economy one way or the other, and conceivably for some time after. It is undoubtedly a worrying time for the market, but low interest rates and flexible products I think will play a large part in attracting potential borrowers and hopefully ensuring the market doesn't drop to previous levels."
Rob's Comments
These figures are not only a surprise but they were predictable. The Government decided to help the housing market by screwing around with the stamp duty making it less expensive for FTB's and more expensive for folks buying large home AND guess what????? The Government screws up AGAIN??? People on the higher end of house purchase stop buying houses and stay put, the government ends up with a deficit in their budget and now they have to come up with yet another solution to a problem they created AND what's the answer "LETS get the landlord and the people who don't want to be landlords but can sell their homes because of negative equity and choose to rent there home out." So, the deadline for a 3% extra stamp duty is applied and everyone rushes to complete their transaction before March 31 and now that the date has passed lending falls because the Government has effectively killed the market for landlords and those who can't sell their homes.
So, here is my question, "why didn't the government just leave the stamp duty exactly as it was?????
GOOD JOB government, keep up the good work and perhaps in future no one will ever move again.
http://www.financialreporter.co.uk/mortgages/boe-mortgage-lending-sees-7bn-monthly-dr0p.html?utm_source=Email+Campaign&utm_medium=email&utm_campaign=11064-358853-Breaking+news+1st+June+%28BTLR%29