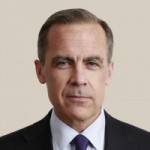 The Bank of England has issued a further warning over the impact of a UK exit from the European Union, with the risk of a "technical recession" now on the cards.
Addressing a press conference following the release of the Bank's Inflation Report, governor Mark Carney said there were a "range of scenarios" that could emerge from an out vote on 23 June, including lower growing and higher inflation, the Telegraph reported.
He added that a further scenario could include a "technical recession", whereby an economy experiences two consecutive quarters of negative growth in gross domestic product.
Carney said a vote to leave the EU could have "material economic effects" on the exchange rate and supply and demand within the UK economy, both factors that could affect how monetary policy is set.
"The combination of these influences on demand, supply and the exchange rate could lead to a materially lower path for growth and a notably higher path for inflation than in the central projections set out in the May Inflation Report," he said.
Carney added that the Monetary Policy Committee, which determines the rate of inflation, could "face a challenging trade-off" in such a scenario, forcing them to balance both inflation and output and employment.
"The implications for monetary policy would not be automatic; its direction would depend on the relative magnitudes of the demand, supply and exchange-rate effects. Whatever outlook materializes, the MPC will determine the course for monetary policy that delivers the inflation target in a sustainable and timely manner, which generally means returning inflation to target within two to three years and keeping it there."
During a Treasury Select Committee hearing in March, Carney was accused by MPs of showing bias toward the 'remain' camp in the EU debate after he said a Brexit was the biggest risk to financial stability in the UK.
But Chancellor George Osborne voiced his support of Carney's latest comments in a tweet: "Big moment in EU debate: Bank of England warns vote to Leave would mean both materially lower growth and higher inflation. It's a lose-lose."
Rob's Comments
More crap from government as the impose their press to the Bank of England. The whole article is COULD!!! COULD!!! COULD!!! This could happen that could happen! But if Brexit COULD be the biggest risk to the UK economy than the opposite COULD be true also. Amazing how none of the politician or their puppets ever talk about the POSTIVE result that could happen if we leave the EU.