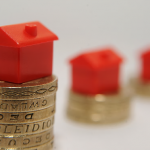 More mortgages were approved for first-time buyers in June than in any month since August 2007, according to the latest data from mortgage lenders.
People taking their first step onto the property ladder were advanced around 34,300 loans during the month, up 24% compared with May and some 17% higher than a year earlier.
The figures from the Council of Mortgage Lenders (CML) also show that affordability measures for first-time buyers have remained relatively stable in recent months.
The typical loan size increased to £135,400 from £131,400 in May, while the household income of borrowers also climbed slightly from £40,000 in May to £40,377 in June.
This meant that the income multiple of first-time buyers went up from 3.51 to 3.55.
Home movers took out a total of 33,900 mortgage loans in June, up 28% on the previous month and 0.3% more than a year earlier.
It was the third month in a row that the number of loans approved for first-time buyers had outstripped those approved to home-movers – a trend that had not been seen previously for 20 years.
"These figures reveal growth in house purchase activity and in particular for first-time buyers," said Paul Smee, director general of the CML. "As ever, there is uncertainty and it will take more time and patience to understand how the market will evolve in the current environment – these figures predominantly cover activity in the run-up to the referendum.
"We still believe that the mortgage market is well capitalised, resilient and open for business, and will remain so for the foreseeable future."
Get involved!
Could now be the perfect time to take that first step on the ladder? It certainly seems to be, with low mortgage rates and a huge number of first-time buyer mortgages available creating the ideal combination. If you're thinking of taking the plunge, start the process by looking at our mortgage best buys to find a deal that can keep your repayments in check.
Robs Comments: For months we have heard the no since about leaving the EU and guess what? It has not effected a thing in the normal everyday housing market (NOT LONDON)
http://moneyfacts.co.uk/news/mortgages/ftbs-enjoying-mortgage-boost/