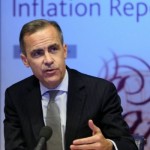 Bank of England Monetary Policy Committee member Gertjan Vlieghe says that interest rates could go a "little bit negative".
Speaking to the Evening Standard, the economist, who joined the MPC last year as an external member, says that he could see rates going lower than their current rate.
However, he warns that the Bank needs to consider the implications of rates going too negative.
He says: "Theoretically, I think interest rates could go a little bit negative.
"There is only so far that they can go negative before you start worrying about the thing that central bankers have been worrying about all these years — which is 'not only am I not getting any interest paid on my money in the bank, it is now potentially going to charge me, in which case I won't keep my money in the bank, I'll just take it out and keep it at home'."
He says that if that scenario occurs, "it is almost certainly negative for the economy" as the whole banking model will be undermined.
Earlier this year, Bank of England governor Mark Carney said he could see rates being cut from their current 0.5 per cent.
Speaking to the Treasury Select Committee, Carney said if the economy needed additional stimulus there were many things the bank could do.