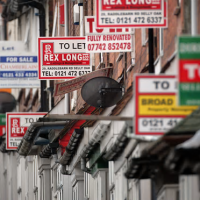 The number of buy-to-let mortgages rocketed by 22% in January compared with the same month in 2015, as landlords rushed to beat forthcoming tax changes.
Around 9,500 loans were taken out by buy-to-let borrowers in January, compared with 7,800 in January 2015, according to the Council of Mortgage Lenders (CML). The total amount borrowed rose by 40% year-on-year to £1.4bn.
The figures are the latest to show a surge in interest from investors ahead of the coming stamp duty hike on second homes. From 1 April, they will pay a 3% surcharge on stamp duty on property purchases.
Each generation should be better off than their parents? Think again
Larry Elliott Economics editor
From baby boomers through to generation X, the theory that children would become better off than their parents are dead
Read more
The amount lent to homeowners re-mortgaging was £5.8bn, the CML said, the highest figure since January 2009 and a rise of 32% on the same month in 2015.
Jeremy Leaf, a former Rics chairman and north London estate agent, said: "The figures give us a taste of what is to come in the housing market over coming months.
"What we are seeing on the ground is people taking advantage of mortgage rates while they are low. With a relatively low number of transactions taking place, lenders are having to make up their numbers somewhere and are offering a plethora of attractive re-mortgage deals."
First-time buyers took out 21,400 home loans in January, up 14% on the same month the previous year, borrowing a total of £3.3bn.
Mark Harris, chief executive of mortgage broker SPF Private Clients, said: "Cheap mortgage rates, challenger banks keen to lend and schemes aimed at helping first-time buyers on to the ladder, are all helping create a buoyant market, which we expect to continue well into the spring."
What next for buy-to-let landlords struggling to make ends meet?
Ajay Ahuja has made millions from investing in property – but now he's selling up. Will others follow suit as recent tax increases start to bite? We investigate
Read more
The Royal Institution of Chartered Surveyors (Rics) said its members believed that the UK housing market will slow down over the next three months as the stamp duty tax changes "take the heat out" of interest from investors.
"Over the past three months, we have witnessed a surge in buy-to-let activity," said Simon Rubinsohn, Rics chief economist.
"Investors have rushed to purchase homes before the stamp duty surcharge comes into effect. It is inevitable that over the coming months, April's stamp duty changes will take a little of the heat out of the investor market.
"While there remain significant doubts as to whether the government's plans to encourage a more robust development and construction pipeline will be sufficient to address the housing crisis, long-term price indications for the housing market remain strong."
Paul Smee, director general of the CML, said that borrowers "continue to seek attractive deals despite the lower-for-longer expectations for interest rates".