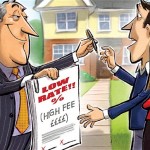 I have completed reading an article stating that millions of mortgage customers could face "shock" of a potential rate rise by the end of the month.
Read here https://www.thesun.co.uk/money/5505102/millions-of-homeowners-could-face-shock-mortgage-bill-rise-this-month-heres-how-to-avoid-it/
When you look at the real monthly figures, too me it does not look that bad. The example used on a £250,000.00 mortgage over a five-year fixed rate, could go up by £30.00 per month.
Really!!!!
This will be a shock????
Customers who have the income to be able to afford a £250k mortgage in the first place are going to be in financial peril for an extra £30.00 per month.
I don't think so and it is silly for major news reporting organisation to try and scare the public into thinking that it will.
In my option, rates will have to go up, but it will be gradual and over the long term.
Seeing another credit crunch is the last thing anyone wants and repossessing many houses because of an accelerated rate rise will cause this to happen.