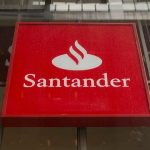 Santander has reduced its mortgage lending and its loans for car purchase amid Bank of England warnings about reckless lending and a "spiral of complacency" over mounting consumer debt.
Its total mortgage lending fell by £1bn to £11.6bn in the first half of 2017 compared with 2016, with lending for buy-to-let down significantly. Net lending – which takes into account how many people r-emortgaged away from Santander – fell over the half year by £200m.
Net consumer finance lending – covering car loans and credit cards – fell to £97m from £266m, partly due to "a decrease in the stock of new car registrations".
Banks, credit card companies and car loan providers told they face action against reckless lending
Nathan Bostock, the Santander UK chief executive, said: "We do face uncertainty and that was my view at our last results. Generally, we have done less unsecured and credit card lending, and are probably down 10% on balances."
Bostock said intense competition is driving down interest rates to historically low levels, and accused competitors of offering better rates on car loans and credit cards than are charged to much more secure mortgage customers.
But he added that the risks of car loans should be put in a broader context. "Unsecured lending is a £60 to £70bn market, but the mortgage market is £1.3tn." He added that non-performing loans (where customers have fallen behind payments) stood at just 0.48% of the unsecured book of lending, and that mortgage arrears remained very low.
Bostock pledged not to make further rate cuts to the hugely popular 123 account, where interest rates were halved in November last year. About 3.6 million people in the UK have the account, which was paying 3% interest on balances up to £20,000, but the rate was halved to 1.5%.
Despite slashing interest pay outs on 123, Santander said its "loyal retail customer base" continued to grow, rising to 3.9 million customers.
The typical mortgage lent by Santander remained steady at £198,000, with the average for London and the south-east at £263,000 and in the rest of the country at £146,000. It said the typical buyer was taking out a loan equal to 3.18 times their income, up from 3.16 times in December 2016.
Santander's total profit for the half year was down 1% to £1,063m from £1,078m, with £69m set aside to cover PPI pay outs.
Rob's comments. This fly in the face with the news that I am about to report. Santander called us last week concern about the fact that they were down on mortgage business and what they could do to increase us on sending them more business. In my option, this is a spin. They are not as completive on ease of use with their mortgage website and they are using the Bank of England warning to say that "we are taking that warning to heart and are lending less". Funny, as there down turn to lending happen before the B of E warning.