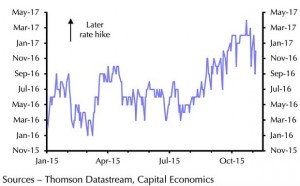 Mortgage lenders are being forced to pay more for the money that they pass on to borrowers, leading to speculation that fixed mortgage rates are about to rise.
The cost of two, three, five and 10-year money fell in October, but has risen sharply over the past couple of weeks. Historically, when the cost of this funding, known as swap rates, rises lenders push up their mortgage rates to cover their increased costs.
But other factors may come into play that encourage lenders to shoulder the increase and keep their rates low.
Here we look at how fixed rates could change over the coming months:
Rising swap rates
The pricing of mortgages depends mostly on whether banks can access cheap funds. Lenders borrow on money markets, buying at the "swap" rate for a certain time period.
These swap rates are loosely linked to the yield on gilts or UK government bonds. The pricing of gilt yields is influenced by expectations for future interest rates and inflation, among other factors.
Shorter-term fixed rates such as two and three-year fixes are closely aligned to the market view of inflation. If inflation is expected to remain low, gilt yields and, in turn swap rates, will stay low, keeping rates down.
But longer-term fixes such as five and 10-year deals are reflective of market expectation for Bank Rate. If lenders think interest rates will rise, longer-term fixed rates will push up.
The two-year swap rate (below) fell from a high of 1.17pc in June to a low of 0.90pc in mid-October. But since then it has climbed and is currently sitting at 1.03pc.
Three, five and 10-year swaps have followed a very similar pattern, with rates rising sharply this month. Lenders may choose to pass this increased cost on to borrowers in the form of higher rates, which could start to filter through over the next few weeks.
Interest rate rise
Predictions over the summer that the Interest-rates-could-rise-as-soon-as-January-says-Bank-of-England-Governor-Mark-Carney was planning to push up interest rates around the turn of the year sparked fear among some that mortgage rates would follow.
But Mark Carney, governor of the Bank of England, suggested last month that rates might remain low for longer.
"If events mean … rate rises are not appropriate, then we will do the right thing and we will not adjust rates," he said.
The markets do not expect the Bank of England to lift rates from a record low of 0.5pc until December 2016 thanks to low inflation, an expectation that the US Federal Reserve will not raise rates until next year and China's economic slowdown.
This expectation keeps changing, and last month was as far forward as April 2017.
When they do eventually rise, interest rates are expected to move up slowly, only reaching 1.5pc by the end of the decade.
Strong Market forecast for a Bank Rate rise Interest rate forecasts 5 Nov 2015
Lending targets
Banks and building societies have lending targets to meet, and most must fulfil these by the end of the calendar year. As December approaches, many of the lenders that are behind on their targets will launch competitive deals to attract new business and ramp up their totals.
This could help keep rates lower for longer, although brokers say that lenders' margins are already squeezed so it is unlikely that rates will fall too much further.
So should you fix your mortgage?
The cost of fixed rate loans remains historically low compared with "trackers", especially on longer-term loans. So protection from rate rises comes at little extra premium, making a fix worthwhile for many borrowers.
Industry figures show more than 90pc of those buying and re-mortgaging are buying fixed rates.
Interest rate forecasts 5 Nov 2015
Lending targets
Banks and building societies have lending targets to meet, and most must fulfil these by the end of the calendar year. As December approaches, many of the lenders that are behind on their targets will launch competitive deals to attract new business and ramp up their totals.
This could help keep rates lower for longer, although brokers say that lenders' margins are already squeezed so it is unlikely that rates will fall too much further.
So should you fix your mortgage?
The cost of fixed rate loans remains historically low compared with "trackers", especially on longer-term loans. So protection from rate rises comes at little extra premium, making a fix worthwhile for many borrowers.
Industry figures show more than 90pc of those buying and re-mortgaging are buying fixed rates
http://www.telegraph.co.uk/finance/personalfinance/borrowing/mortgages/11986731/Whats-next-for-fixed-rate-mortgages.html