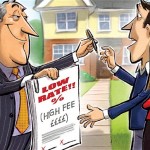 In late 2015, it looked to be wise to lock yourself into a fixed rate mortgage, with the looming prospect of a Bank Rate rise.
But gloomy economic data from around the world has quashed the prospects of rising rates.
In fact, market indicators suggest that Bank Rate will remain at 0.5pc until early 2017.
• Latest interest rate predictions and what they mean
• Best fixed-rate mortgages: two, three, five and 10 years
• Calculator: the impact of rate rises on your mortgage
For mortgage borrowers the question is whether tracker mortgages – which are fixed at a set percentage point above Bank Rate and then rise and fall in line with it thereafter – offer any advantage, or whether a fixed rate mortgage should still be the default for borrowers.
• For more on rate rises and mortgages: get our weekly newsletter
Long term fix vs taking a gamble
Telegraph Money has compared the two scenarios, using current best-buy mortgage deals and calculations by independent mortgage broker John Charcol.
The assumptions made are that the borrower has 40pc equity in a £400,000 property, and is re-mortgaging without taking on any extra debt.
Scenario one: five year fixed rate
The most secure option is to take out a longer term fixed rate mortgage. This provides some of the advantage of the current low rates, and enables you to ride out any increases to Bank Rate.
Tesco Bank offers a five year fix at 2.19pc with a £995 fee. The total interest-only cost of the mortgage over the fixed term is £27,384.
Scenario two: two year tracker
The cheapest mortgages out there rate wise are two year trackers. Yorkshire Building Society offers one tracking Bank Rate plus 0.57 percentage points.
This gives a current "pay rate" of just 1.07pc. An upfront fee of £845 applies.
Using the 1.07pc rate for the two years, the interest only cost is £5,999, although that would be higher with a rate rise.
What would happen then?
If Bank Rate rose in January 2018 to 1pc, we assume at that point the borrower locks into a three year fixed rate of around 3.15pc as the cheapest likely follow-on from the tracker.
This would cost £23,769 assuming a £995 fee, bringing the total interest only five year cost at best to £29,768, putting the five year fixed rate option significantly ahead.
Simon Collins, of John Charcol, said: "If the client looked to take a three year fixed rate after the initial two year tracker, then they are most likely to end the five years well behind on where they could have been with the longer term fix taken out now. "
It's also worth highlighting that two year fixed mortgages are not far off the best trackers, rate-wise, with Yorkshire Building Society offering 1.17pc.
With a modest Bank Rate rise factored in, a two year fix could well prove a cheaper option in place of the two year tracker in this scenario anyway.
Fixed rates are likely to fall further
The pricing of fixed rates and tracker rates are influenced by different factors.
Falling wholesale interest rates (also called "swap rates") are influence fixed rate pricing. These rates have fallen significantly in line with market expectations that rates will be lower for longer.
Tracker mortgage pricing is more sensitive to the LIBOR rate, which sank following the banking crisis and has remained stable since.
Where a tracker could still be worthwhile
1. No early repayment charges
One significant advantage of trackers versus fixed rate mortgages is that they are far more likely to have no charge for early repayment, meaning you are free to pay down more of your debt – if you are in a position to do so.
This reduces your overall interest cost.
2. Lifetime trackers
These are not widespread, but there are certainly some interesting lifetime trackers available.
Again these offer more flexibility than fixed-rate deals. But you are at risk of any future increase in Bank Rate.
David Hollingworth, associate director of communications at London and Country Mortgages, said: "First Direct is offering 1.49pc above Bank Rate for life, giving a 1.99pc pay rate, which is comparable with a five year fixed rate.
"I still think people will like the idea of fixing in, but you have no early repayment charges at any time with this lifetime tracker, so you are able to move if you felt you needed to, and it gives you more flexibility if you want to make large overpayments."
3. If base-rate doesn't rise
So far almost all predictions surrounding Bank Rate rises have been wrong.
If it remains at or close to its current level for a long period, and fixed-rate prices stay above the best tracker rates, then there is a potential advantage in tracking.
http://www.telegraph.co.uk/finance/personalfinance/borrowing/mortgages/12122792/If-rates-stay-low-would-I-profit-from-a-tracker-mortgage.html