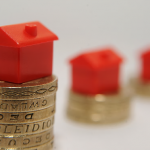 Mutual lenders – better known as building societies – are beating shareholder-owned banks to offer the best fixed mortgage rates, a study has found.
Across various types of mortgage, building societies' rates an on average up to 0.66 percentage points lower than banks' equivalent rates.
The biggest gap is where borrowers who have a 25pc deposit opt for a five-year fixed rate deal. These are currently very popular.
Here the average rate offered by banks is 3pc, while building societies' equivalent rate is 2.34pc. This is a different in rate of 22pc.
For a two-year fixed rate, building societies offer 1.74pc on average to customers with a 25pc deposit, while banks offer 2.32pc, a difference of 0.58 percentage points – or 25pc.
The difference does not consider upfront fees, which are sometimes higher on the mortgages with lower rates.
Charlotte Nelson, finance expert at Moneyfacts, said that now five out of six two-year fixed rate "best buys" were from building societies.
For a buyer with a 5pc deposit, the best rate is currently from Mansfield Building Society, at 2.94pc, with fees of £499.
Even when fees are considered, the eight cheapest mortgages all come from building societies.
The cheapest loan from a bank is TSB's two-year fix, at 3.48pc with fees of £595. A version at 3.89pc with £400 cashback is also available.
For a buyer with a 25pc deposit, the best rate available is Yorkshire Building Society's two-year fixed rate at 1.23pc with fees of £1,200.
Yorkshire Building Society also has the cheapest rate for buyers with a 40pc deposit, though their 0.98pc deal with fees of £1,700 is a two-year discount from their standard variable rate of 4.74pc.
Ms Nelson suggested that building societies were able to be more flexible in their underwriting, meaning they could offer better deals to less "mainstream" customers, such as those with small deposits.
Until recently HSBC's mortgages topped many of the best buy tables, including a record low fixed rate of 0.99pc.
However the bank withdrew many of its deals on December 8 last year. It also stopped offering mortgages to buyers with 5pc deposits.
Rising swap rates, which determine banks' cost of borrowing, have brought mortgage rates up from the rock-bottom levels they were at in June last year.
Shaun Church, of mortgage broker Private Finance, said that smaller building societies were less affected by these market movements.
"Something like that would have a more significant impact on banks, because they are more reliant on capital markets for their funds, whereas building societies tend to lend out depositors' cash.
"Building societies can also be more fleet of foot and might be capitalising on some of the larger banks pulling back in the short term," he said.
Building societies have also offered record low rates in other relatively niche areas, such as ten-year fixed rates.
Coventry Building Society now offers the best long-term fixed rated deal for buyers with a 25pc deposit, with its seven-year fix at 2.49pc and fees of £999
Robs Comment, only part of this article is accurate. The 2-year fixed rate is cheaper with one building society but the variable rate is over 5%. with one being close to 6%. When comparing that with Nat Wests or Halifax at 3.34% one must ask if Building Societies are the better value for money????