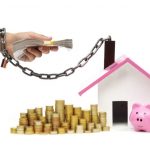 I just finished reading the Daily Mail (Money Mail Section Sep 20th 2017)
According to the article, young home buyers are taking on billions of debit just as interest rates are about to rise.
The article also stated that more than £35 billion of fixed home loan deals will come to an end in the next 2 months and these borrowers will then be moved onto a variable rate deals.
Folks. The article was very negative and did a lot to try and scare the public but gave little in the way of solution or advice.
It is probably true that a lot of people will be coming to the end of their fixed rate. So, What? this happen every month but the public will not be STUCK on the variable rate as the article implies.
With all most all lender customers have the choice to move to another fixed rate and as most lenders are having RATE WARS the consequence on landing on a very high, un affordable fixed rate is un likely.
Folks, it does not matter if you see Mortgage Information Centre or not but, please don't be silly. Look at your mortgage documents and see when your fixed rate deal is about to end. Call your broker or bank to discuss another deal. Those who use brokers will get the advantage of these professional comparing this to a re-mortgage deal insuring you get the best rate possible.
For those looking to buy now, their are 5 and 10 year fixed available.
If you don't have a broker please call us now on 01698 283301. Phone line open 7 days a week until 8pm.